Our pottery is made like the old farmers in France centuries ago made their own pottery, often in their own wood fired bread ovens.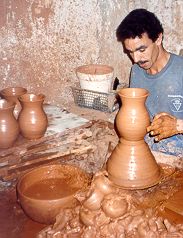 <It starts with the beautiful Provence Clay, a very soft pink color of the finest nature...Then all products are hand thrown: No moulds are used. Every piece is a work of individual art. you can see individual characteristics on every piece even from the same artist.
Thrown product is dried; slip is applied to the dried clay>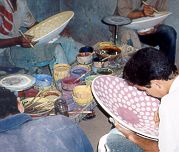 This slip forms the basis for hand painting that follows; Med Living's proprietary colors and patterns are applied entirely by hand without
using any short cuts. Our pigments are French pigments, absolute requirement for authenticity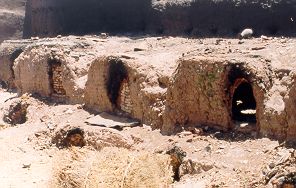 <The painted product is then placed in primitive clay and "adobe" brick ovens, fired by wood. the temperature in these ovens is uneven and wind blows through them. The finish on every pot, coloration and patina, is influenced by this process differently for every pot, for every firing...and again, this provides the authentic look of ancient pottery
Finally, over the last 15 years Lionel Barthe has developed proprietary processes to create the finish and antique patina we are so well known for: cracqueling, discoloration, and lopsidedness are very carefully achieved so well, that even many museums now have some of our pieces in their collections.